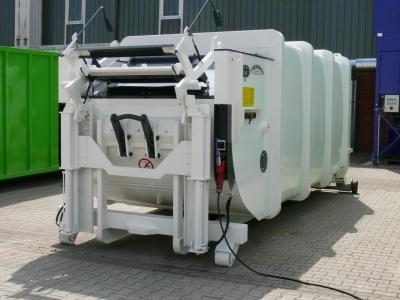 We believe Bergmann produce the finest Wet Waste Compactors on the market – these machines are completely watertight. The roll on/ roll off (hook lift) MPB 906/907 SN20 has a huge 20 cubic metre capacity.
Available in any RAL colour, the MPB range from Bergmann can be supplied with integral Bin Lift, as shown. They can also be supplied with safety cages to ensure safe operation.
Bergmann Wet Waste Portable Compactors are available in a wide range of sizes. Container capacity ranges from 14-26m³.
Just contact us to discuss your exact requirements.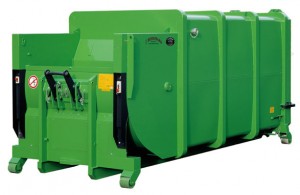 A system designed by Bergmann over 40 years ago results in cleanliness without external refuse deposits. The MPB can be fed continuously, because the swing piston crosses below the waste that is fed during backstroke. This drops in front of the press plate and is pressed into the container on the pre-stroke. This is how optimal compression is achieved. Years of experience and continuous development led to a lower dead weight with higher construction stability.
The oscillating suspended press ram ensures that the pressing cylinders do not come into contact with the waste. which eliminates costly cleaning work in front of, behind or under the press ram. With this machine, the entire filling area is always available with every cycle.
The Mobile-Pack-Bins (MPB) are characterised by high compaction results and long service lives. Thus, the machines are not only very economic, but they also make a valuable contribution to the reduction of CO2 levels.
There are no cleaning costs following every emptying. Thanks to a waterproof design, the installation locations also remain clean. The aggregate and switch box are easily accessible from the outside. All things considered, maintenance and repair costs are thus significantly reduced and durability is increased.
A range of accessories are available when ordered with the MPB 906/907 SN machines including:  a double pump (24 second cycle time), rollers on the front, hooks on the rear, high side walls, watertight finish, hydraulic 75% and 100% full signals, drainage plug, integrated pinion and comb lift bin lifts and bin lid openers, guide rails and special RAL paint.
MPB Wet Waste Compactor in action:
One of our most popular Wet Waste machines in this range is the Bergmann MPB 906/907 SN/20
Please contact us for further information about this or any of our range of compactors.
Technical Information
A larger machine which transported via a roll-on/roll-off (hook lift) vehicle
Container capacity ranges from 14-26m³
Can be supplied with an integrated bin lift if required.
| | |
| --- | --- |
| Model | Bergmann MPB 906 /907 SN/20 |
| Container Capacity (m³) | 20.6 |
| Loading Aperture Capacity (m³) | 2.5 |
| Return cycle (sec) | 15 |
| Cycle time (sec) | 28 |
| Cylinder thrust (kN) | 342 |
| Operating Pressure (bar) | 250 |
| Blade face pressure(N/cm²) | 36 |
| Total weight (kg) | 3,860 |
| Length (mm) | 6,280 |
| Width (mm) | 2,420 |
| Height (mm) | 2,600 |
| Loading aperture height (mm) | 1,680 |
| Loading aperture length (mm) | 1,280 |
| Loading aperture width (mm) | 1,800 |
| Electrical Data | 5.5kW, 400V 50Hz 3 phase connector CEE-Form 32 A (32 x 2.5mm²) TUV, GS, CE |