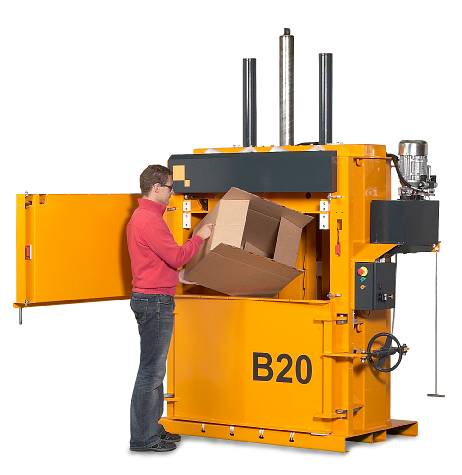 A versatile large scale baler ideal for many industries
The Bramidan B20 is an extremely adaptable Baler suitable for large or small scale baling. Its versatility makes it the logical choice to meet the needs of businesses with variable waste management needs such as retailers.
The B20's traditional design means that it's not only easy to operate but also requires very little maintenance to continually deliver optimum baling performance.
The Baler has a wide opening allowing for easy management of larger boxes and the chamber's barbs keep even the most expandable material compressed to provide maximum compression of your waste.
If you would like to know more about the B20 or any of our Vertical Baler range please feel free to contact us.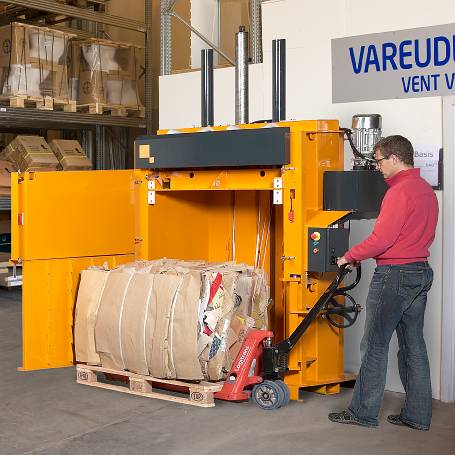 Technical Information
Bale weight approx (kg) 200-300
Dimensions LxWxH (mm) 1760 x 1025 x 2770
20 Tonnes press force
Large filling opening for easy management of larger waste
Front loading strap rolls for easy use
Automatic ejection
Technical Summary
| | |
| --- | --- |
| Model | B20 |
| Press force (t) | 20 |
| Power supply | 3×400V 50Hz 16A |
| Motor (kW) | 4.0 |
| Noise level (dB) | 62-64 |
| Cycle time (sec) | 36 |
| Dimensions LxWxH (mm) | 1775 x 1025 x 2770 |
| Weight (kg) | 1240 |
| Filling opening WxH (mm) | 1200 x 480 |
| | |
| | |
| Stroke (mm) | 750 |
| Bale size WxDxH (mm) | 1200 x 800 x 850 |
| Bale weight approx cardboard (kg) | 200-250 |
| Bale weight approx plastic (kg) | 250-300 |