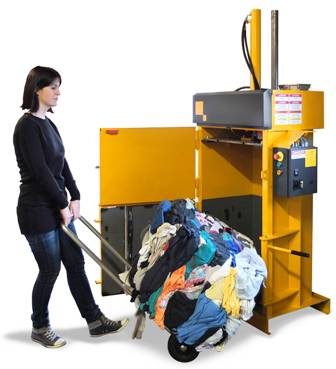 A Bramidan B3 Textile baler is ideal for producing small bales of second hand clothes.  There are no retainers inside the baler to limit any damage to the clothes and the transparent paint on the lower part of the chamber and door prevents the transfer of yellow paint to the clothes.  The long cylinder stroke makes the bale height and weight more flexible.
Should a larger bale be required, the standard X30 and X50 balers can be modified in the same way if required.
The ideal Vertical Textile Baler for where space is limited
The B3 is one of the smallest Balers available. This makes the B3 the ideal waste management solution for use in restricted spaces.
The base area of the unit measures a mere 720mm x 820mm and with only a 230V connection needed this baler is easy to find room for and easy on power consumption.
The B3 makes the baling process simple and safe. The 'full' indicator automatically lights up and the press plate stays in place to guarantee that the Baler cannot exceed its load capacity. Additionally, unlike many similar Balers the straps can be pulled through the main door saving you time whilst baling.
If you want to know more about the B3 Textile or any of our other Vertical Balers and what they can do for your business please contact us.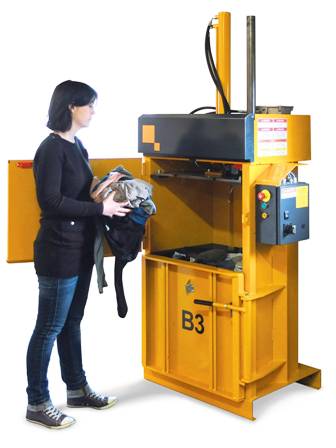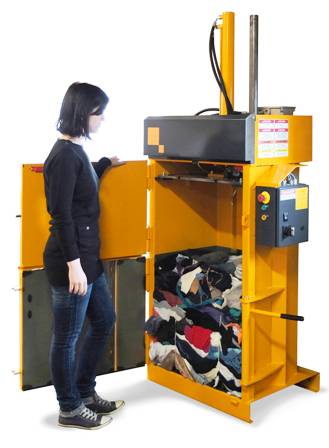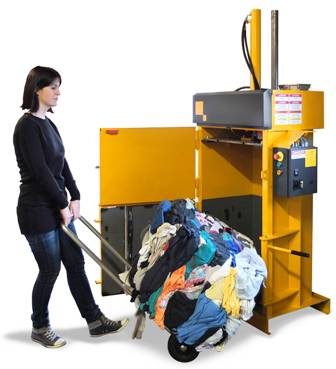 Technical Information
Bale weight approx (kg) 30-60
Dimensions WxDxH (mm) 845 x 745 x 1965
3 Tonnes press force
Ideal for local and small recycling centres for second hand clothes
Baled waste takes less space
Designed for simplicity to use and maintain
Simple and safe to use
Compact, space saving design
Easily replaceable strap rolls
Highly durable components
Suitable for baling a range textiles
Technical Summary
| | |
| --- | --- |
| Model | B3 Textile |
| Press force (t) | 3 |
| Power supply | 1x230V 50Hz 10A |
| Motor (kW) | 1.1 |
| Noise level (dB) | 65-68 |
| Cycle time (sec) | 26 |
| Dimensions WxDxH (mm) | 845 x 745 x 1965 |
| Weight (kg) | 310 |
| Filling opening WxH (mm) | 700 x 460 |
| Filling height (mm) | 755 |
| Chamber height (mm) | 1100 |
| Stroke (mm) | 550 |
| Bale size WxDxH (mm) | 700 x 500 x 650 |
| Bale weight textiles approx (kg) | 30-50 |