The adaptable large scale Baler to solve waste management issues
The Bramidan B30 is a flexible machine and can be used for waste handling in larger retail shops and different industrial companies.The wide filling opening makes it easy to fill in larger boxes and other bulky waste. Rows of efficient barbs inside the chamber keep down the waste material, even very expandable materials like plastic. The B30 is easy to operate and has a full-indicator, which tells you when the chamber is full and ready for baling.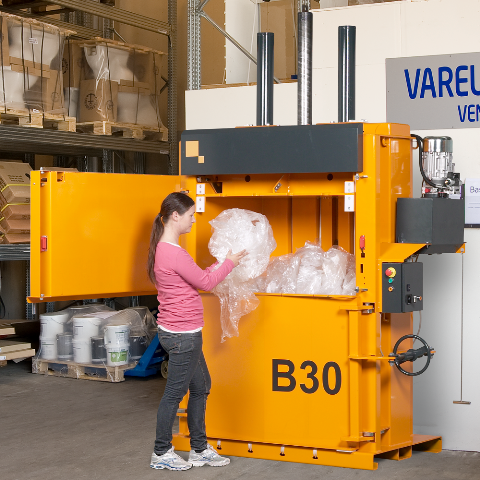 See the Bramidan B30 Baler in action:
If you would like to know more about any of our Vertical Baler range please contact us.
Technical Information
Bale weight approx (kg) 280-450
Dimensions WxDxH (mm) 1765 x 1025 x 2920
30 Tonnes press force
Front loading strap rolls make use and replacement easy
Large filling opening For simple handling of bulky waste
Wide aperture for easy loading
Automatic ejection
Technical Summary
| | |
| --- | --- |
| Model | B30 |
| Press force (t) | 30 |
| Power supply | 3x400V 50Hz 16A |
| Motor (kW) | 4.0 |
| Noise level (dB) | 62-64 |
| Cycle time (sec) | 51 |
| Dimensions WxDxH (mm) | 1765 x 1025 x 2920 |
| Weight (kg) | 1240 |
| Filling opening WxH (mm) | 1200 x 480 |
| | |
| | |
| Stroke (mm) | 750 |
| Bale size WxDxH (mm) | 1200 x 800 x 950 |
| Bale weight cardboard approx (kg) | 280-350 |
| Bale weight plastic approx (kg) | 350-450 |