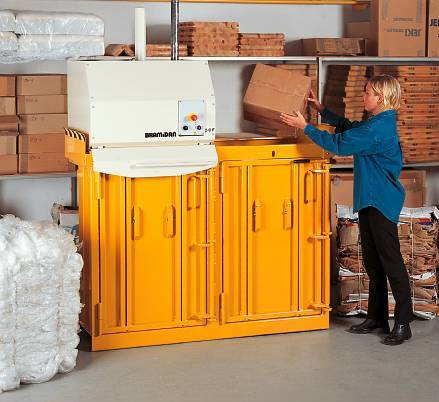 Highly flexible Baler
Many customers produce multiple waste streams – say cardboard and plastic. If these waste streams are produced concurrently, then you may need to be able to bale both at the same time, rather than having to wait until a bale of one material is finished before ejecting it and producing a second bale of a different material in the same chamber.
The MC4 from Bramidan solves this problem by having one press ram servicing two (or more) baling chambers. This means you can save time when baling and it also reduces the time it takes to sort waste into the relevant types for recycling making the whole process as hassle free and efficient as possible.
If you would like to know more about the Multi-Chamber MC4 or any of our range of Vertical Balers please contact us.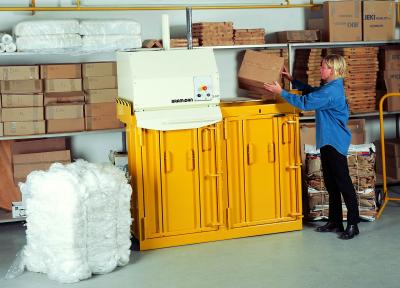 Technical Information
Bale weight approx (kg) 40-80
Dimensions WxDxH (mm) 1720 x 900 x 2180
4 Tonnes press force
Rapid cycle time ensures that waste is pressed and sorted fast
The horizontal handle means that moving the press section is simple and quick
Easy automatic ejection of bales when the baling process is finished
Technical Summary
| | |
| --- | --- |
| Model | MC4 |
| Press force (t) | 4 |
| Power supply | 1x230V 50Hz 10A |
| Motor (kW) | 1.1 |
| Noise level (dB) | 65-68 |
| Cycle time (sec) | 20 |
| Dimensions WxDxH (mm) | 1720 x 900 x 2180 |
| Weight (kg) | 560 |
| Filling opening WxH (mm) | 700 x 500 |
| Filling height (mm) | 1240 |
| Stroke (mm) | 750 |
| Bale size WxDxH (mm) | 700 x 500 x 700 |
| Bale weight cardboard approx (kg) | 40-60 |
| Bale weight plastic approx (kg) | 50-70 |