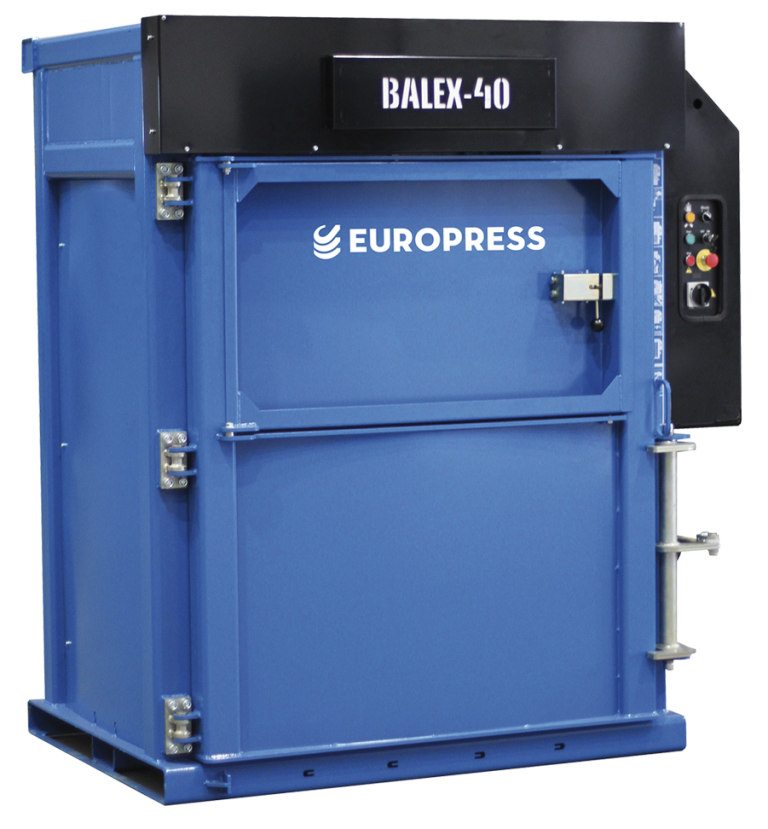 The Balex 40 baler is a heavy duty machine, equipped with cross cylinders for stable compression. It's a compact machine and because it has a low overall height, it is very easy to locate in most environments.
It has a spacious chamber, even compacting large boxes with ease. Overall, its an excellent choice for a wide range of uses.
The Balex 40 has clear user pictogram instructions on the front panel for ease of operator usage and the key operated stop switch is supplied as standard.
The strap box is conveniently located at the front of the baler, which makes it easy and less time consuming to change the strap. Alternatively, wire can be used on this machine if preferred.
When the bale is ready to be ejected, the bale full light switches on automatically. Bale ejection, a two handed operation, is straightforward and the bale fits comfortably on a EUR pallet. The operator's time is saved thanks to the fast cycle time.
Balex utilizes a smart-central that has been tested in Europress's range of compactors for a number of years, with a second generation version of this technology specifically for Balex now in use.
All the best functionality of the original smart technology design has been improved, with lots more additional functions added that have been specifically designed for balers. These improve safety, ease of use and durability of the machine.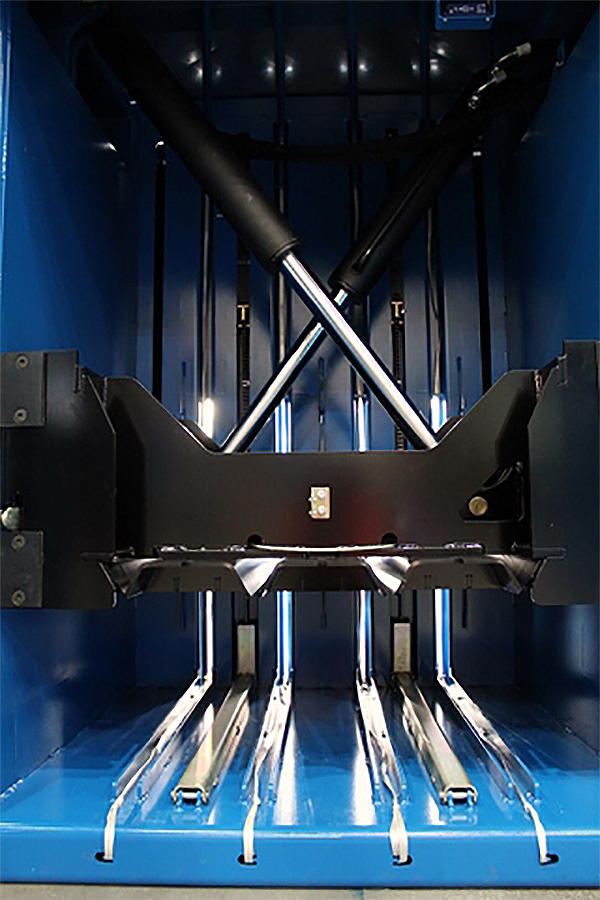 If you would like to know more about our waste management products, the Balex 40 or any of our Vertical Balers please contact us.
Bale weight cardboard (kg) approx 350-400
Dimensions H x W x D (mm) 1995 x 1810 x 1250 – Low overall height & very low noise 59 (dB)
40 ton compaction force • cycle time 61 secs
Key operated lock switch fitted as standard
Two modes of operation, one for cardboard and the other for plastics
TWO YEAR WARRANTY
Cross cylinder design
Balex is extremely safe and simple to use with clear operating pictograms on the front panel
Safe and easy to use door handle allowing quick assess to load the chamber
SMART functionality
Bale full light when bale is finished
Meets EN 16500 Safety Standard
Depending on the waste stream, our 16mm strap is ideally suited for use with this machine. Alternatively, baling wire can also be used.
| | |
| --- | --- |
| Model | Balex 40 |
| Compaction force (t) | 40 |
| Power supply | 3 × 400V 50Hz 16A |
| Motor (kW) | 4.0 |
| Noise level (dB) | 59 |
| Cycle time (sec) | 61 |
| Dimensions H x W x D (mm) | 1995 x 1810 x 1250 |
| Weight (kg) | 2060 |
| Feed opening H x W x D (mm) | 520 x 1120 x 950 |
| Feed height (mm) | 940 |
| Bale dimensions H x W x D (mm) | 950 x 1200 x 840 |
| Bale weight cardboard approx (kg) | 350-400 |