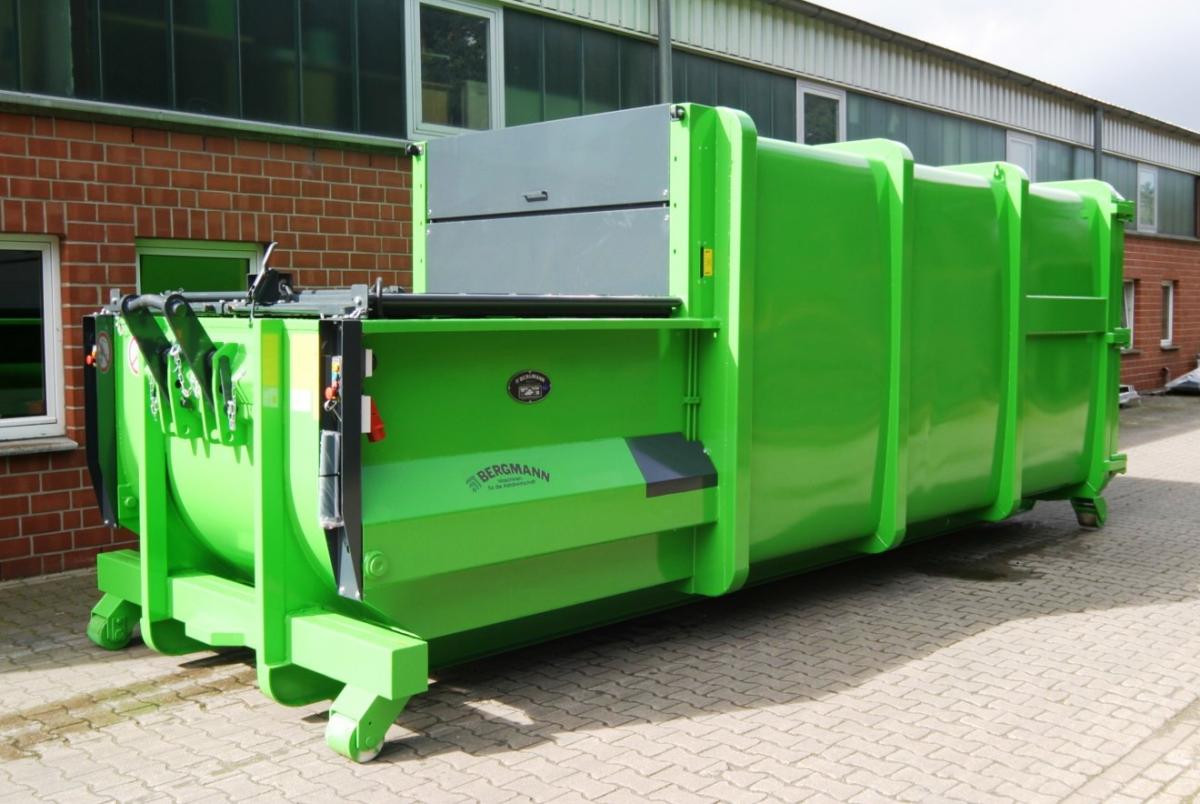 The APB compactors are highly efficient in compacting paper, cardboard packaging, plastics and other dry materials, including refuse.
Bergmann Alpha Pack Bins (APB) are characterised by very high compaction results due to the linear position of the press cylinder and the continuous feeding in a large, easy to feed loading aperture.
Standard features include rollers on the rear and a hook on the front and a compaction chamber of 1700mm x 1800mm.
A range of accessories are available when ordered with the machine including: rollers in front and hook at the rear, high side walls, hydraulic 75% and 100% full signals, lockable covers over the control panel, together with pinion and comb lift bin lifts and bin lid openers, guide rails and a double pump and special RAL paint.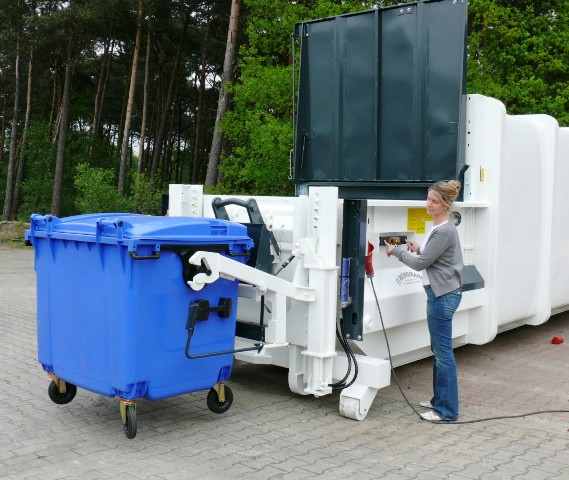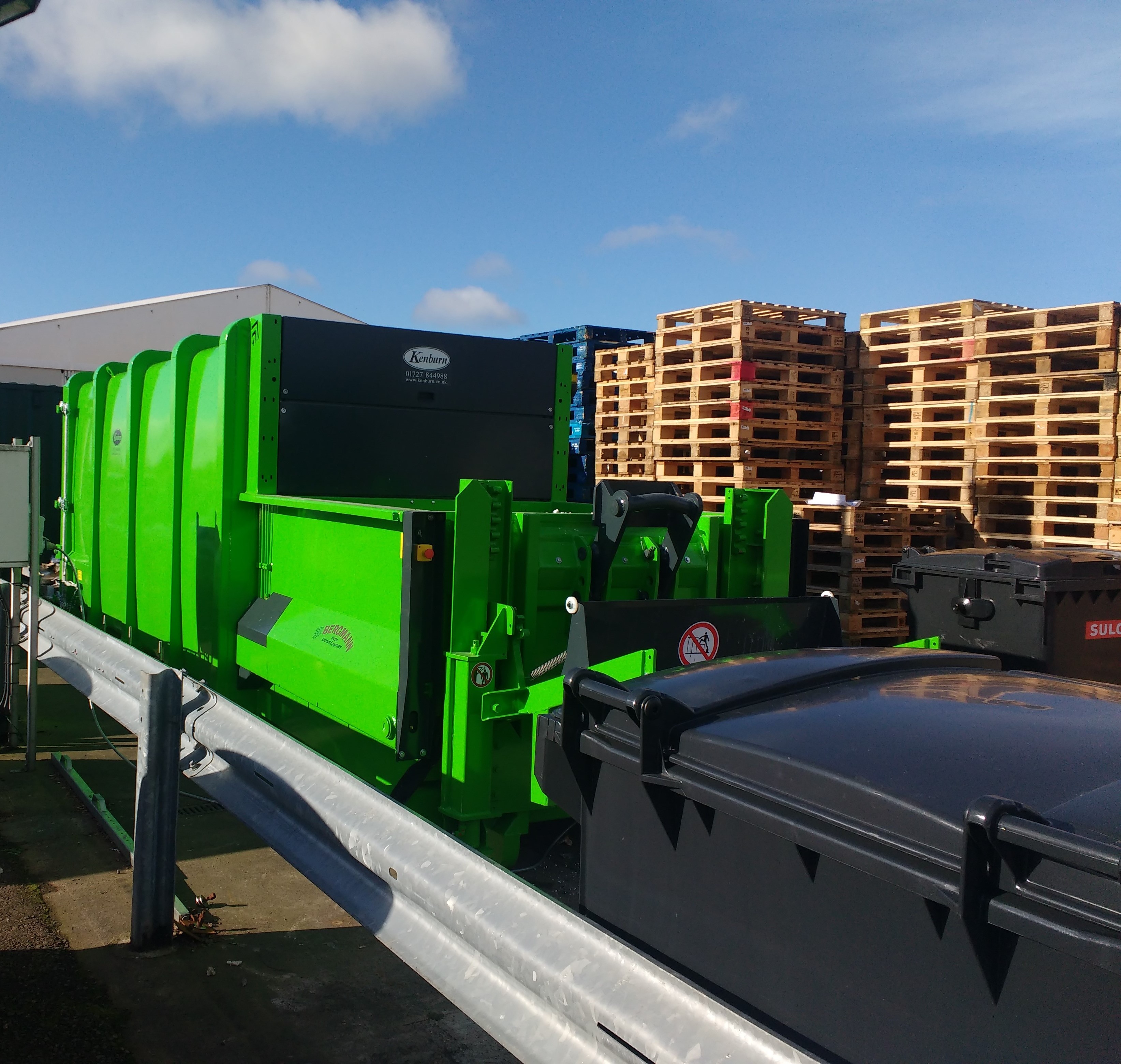 Bergmann Portable Compactors are available in a wide range of sizes. Just contact us to discuss your exact requirements. Integrated Bin Lifts are also available.
Container capacity ranges from 14-20m³. One of our most popular machines is the Bergmann APB 607 SN/20
For further details on this or any other Waste Compactors, please contact us.
Huge loading aperture (approx. 1,700 x 1,800 mm) with a volume of 4.1 m³
Enormously high processing capacity of 2.00 m³ per working stroke
High compaction force of 345 kN with APB 607 SN 20
Press plate guiding system with 100% compaction force over the full stroke length
High filling weights of, on the average up to 4.5 tons cardboard boxes in the APB 607 SN 20 and more
Compactor stroke in only 35 seconds
Durable, purely hydraulic drive unit with maintenance-free central hydraulic block
Compaction chamber and press plate constructed from extremely high steel strengths. Bottom of the loading aperture made of high-quality and wear-resistant steel
Front and rear pick-up hook are variable in height for adjustment to all standard roll-off skip loaders
Laterally fastened door with 3 central locks via easy-to-serve ratchet catch
Pendulum claws on the break edge and the large immersion depth of the compacting piston avoid that the waste streams back
Ease of maintenance: easily accessible hydraulic power pack above the compaction chamber can be reached via wing doors
Great stability with economic net weight
Machine TÜV/GS and CE-certified
Skirting protection of the control elements for protection against damages
Bin is continously welded
Circulation of the material due to special circulation edges at the discharge opening results in a high volume utilisation of the container
Model
Bergmann APB 607 SN/20
Net volume (m³)
20.8
Length pickup single/both ends (mm)
7,020 / 7,250
Machine width (mm)
2,360
Machine height (mm)
2,550
Net weight (kg)
4,480
Inlet height pick-up single/both ends (mm)
1,505 / 1,565
Maximum operating pressure (bar)
220
Loading aperture (mm)
1,700 x 1,800
Motor power (kW)
5.5
Oil quantity (l)
60
Blade face pressure approx (N/cm²)
28.9
Forward/return stroke (s)
35/36 or 20/21 with double pump
Cylinder thrust (kN)
300
Electric supply
5.5kW/380-415 V/50Hz,
CEE-Plug 32 Amp,
Fuse 25A
Transport system
Roll-on roll-off