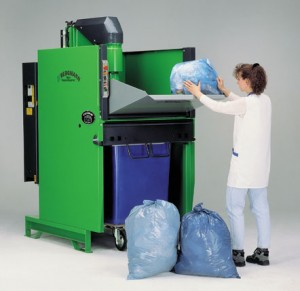 This hydraulically driven Bin Press from Bergmann handles both wet and dry waste. The Bergmann APS 800 is used with 800 litre bins and a modified version of this machine can be supplied for use with 600 litre bins. Both 800 and 600 litre bins are a custom fit for this machine and must be supplied by the manufacturer. The APS compactor can achieve compaction results of up to 9:1 thanks to a special power crusher roller which collects, shreds and compacts waste.
Particularly suitable for wet waste and heavy waste
Handles refuse including cardboard, foil, polystyrene, and fruit boxes as well as recyclable materials
Eliminates the need for expensive and space consuming containers
Achieves maximum cost savings and significant reduction in effort and labour
Ideally suited to the Food industry, Restaurants, Hospitals and Hotels
Bergmann APS 800 compacts waste into 800 litre bins
The Bin Press is simple to operate – simply wheel the bin up to the Bin Press and position it in the opening. The bin is lifted into place hydraulically and the arm with the rolling drum descends into the bin. Because the bin is held in position by the machine, it canot be damaged by the compacting arm.
Standard equipment
Drum for paper and cardboard boxes
Chute
Electrical protection class IP 44
Branded hydraulic pump
Autotimer
Oil level monitoring
Working hour counter
Overload protection
Full signal via signal lamp
Accessories
Pointed roof constructed from glass fiber reinforced plastic
Additional full message via horn or flashing light
Water sprinkling against dust formation
Ozone generator against unpleasant odors
There is a range of drums for the roto compactor according to the waste stream
For further information on this or any other Bergmann products, please contact us.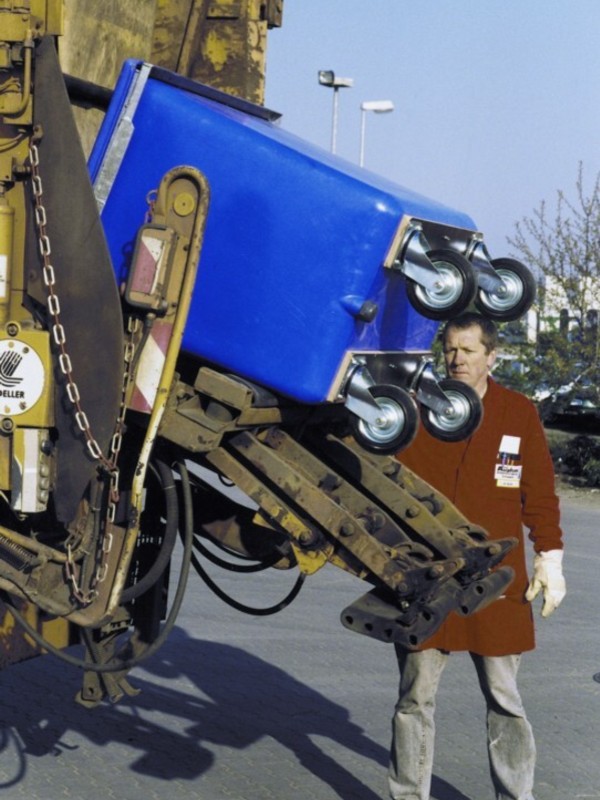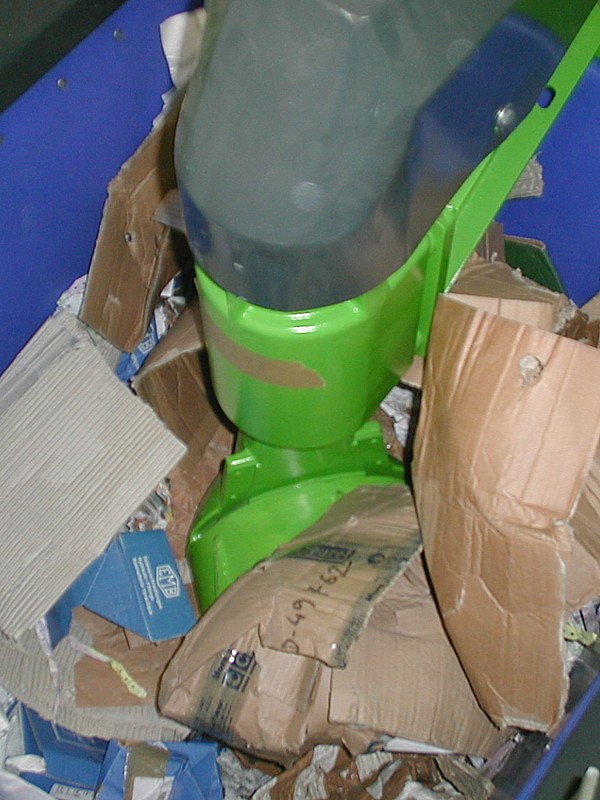 Technical Information
Square format, hydraulically driven
Compacts waste into 800 litre bins
The APS 800 can be supplied in a modified form for use with 600 litre bins
An alternative model, the APS 1100E is an electrically driven version of this machine and compacts into standard 1100 litre bins
Large loading aperture of approx 923mm wide
Height of loading aperture approximately 1480mm
Minimum space requirements: this machine needs less than 2m² of area and only 2.30m of total height
Low operating noise of 76dBA at 1 metre
Electrical protection IP54
Can be fed by chute or conveyor
Technical Summary
| | |
| --- | --- |
| Model | Bergmann APS 800 |
| Empty weight (kg) | 750 |
| Loading aperture height (mm) | 1480 |
| Loading aperture width (mm) | 923 |
| Overall Width (mm) | 1,150 |
| Overall Height (mm) | 1,970 |
| Overall Depth (mm) | 1,675 |
| Required Headroom (mm) | 2,300 |
| Electrical Data | 16A three phase +N 400 V |