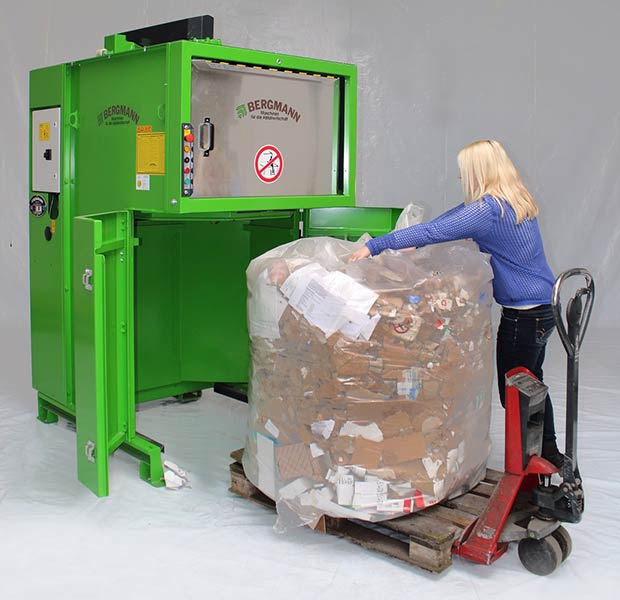 The Bergmann PS 1000E Type 186 from Bergmann is an electrically driven machine and compacts into 1000 litre bags. Compaction ratios of up to 9:1 for general waste have been achieved with this machine.
This machine is driven by an electric motor, gearbox and belt for quieter operation, lower maintenance requirements and greater bag volumes. This compact machine can easily be situated close to where the waste is being generated. It is particularly useful for compacting paper/cardboard, foil as well as general waste. The operator can feed the unit with waste whilst waste is being compacted, so there are no time delays in operating the machine.
Electrically driven Bergmann PS 1000E compacts into 1000 litre bags
The waste material is gripped, torn and compacted using a specially equipped steel drum and the resulting bale can be easily transported to the collection area using a pallet truck.
Standard equipment
Special compaction drum for paper and cardboard boxes
Faceplate
Electrical protection class IP 44
Autotimer
Working hour counter
Overload protection
Full message via indicator lamp
Accessories
Filler chute, reduction of filling height
Special drum for foils with blade set
Cone roller with 24 cones for strong pasteboards
Roof
Additional full message via horn or flashing light
Water sprinkling against dust formation
Ozone generator against unpleasant odours
For information on the Bergmann PS1000E or any other Bergmann products, please contact us.
Technical Information
Round format, electrically driven
Compacts into 1000 litre bags
Suitable for paper and cardboard as well as refuse
An alternative model, the PS 1400E is a square version of this machine and compacts into the larger 1400 litre bags
Requires little space
High processing capacity
Low operating noise
Electrical protection class IP 44
Machine CE-certified
Technical Summary
| | |
| --- | --- |
| Model | PS 1000E type 186 |
| Power Supply | 16A three phase +N 400 V |
| Dimensions WxDxH (mm) | 1200 x 1655 x 2580 |
| Feeding Height (mm) | 1890 faceplate 1470 filling chute |
| Filling opening with accessory filling chute | 670 x 1090 |
| Max required space for handling | w 1500 x h 2580 |
| Weight (kg) | 940 |
| Compaction Ratio | up to 9:1 |
| Bale Dimensions (mm) | 1100 x 1000 Approx 1000 litre |
| Feed Opening (mm) | 1090 x 670 |
| Noise Level dB | 59 according to DIN 5045 with 1 metre distance |
| max height with extended compaction unit (mm) | 2580 or 2600 with roof cover |