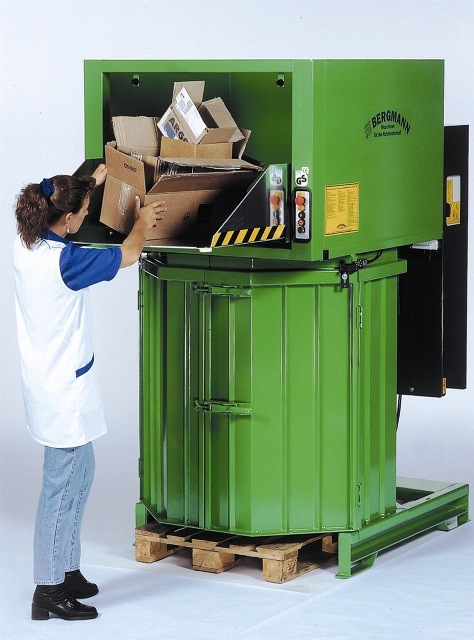 Supremely convenient waste compaction from Bergmann
The unique design of the Bergmann Roto Compactor PS 8100 allows continuous feeding of waste, even while the machine is in operation. The safety of the operator is not compromised. This means waste does not have to be stored or gathered before being treated – just put it straight into the Roto compactor. On new machines, there's a choice of drums according to the waste materials being compacted.
The rotating head tears up the waste material into small pieces for easy compaction, achieving a compaction rate of up to 9:1 dependent upon waste steams. The waste is compacted into 1000 litre bags of either 300g or 500g.
The equipment is suitable for continuous filling by conveyor belts or chutes and having a small footprint is easily located.
Once the machine is full, the waste is emptied by removing the sacks of waste on a pallet.
collects, shreds and compacts the waste by a specially equipped steel drum, which enables a compaction rate of up to 9:1
compacts through an alternating right / left rotation of the special drum that constantly keeps the waste under pressure
allows for a continuous filling – the filler chute can also remain open during the work process
compacts waste in a transparent PE bag
PS 8100 can be installed conveniently close to where waste is produced
ideally suitable for continuous filling through chutes or conveyor belts
easy to operate
machine CE-certified
durable and low-maintenance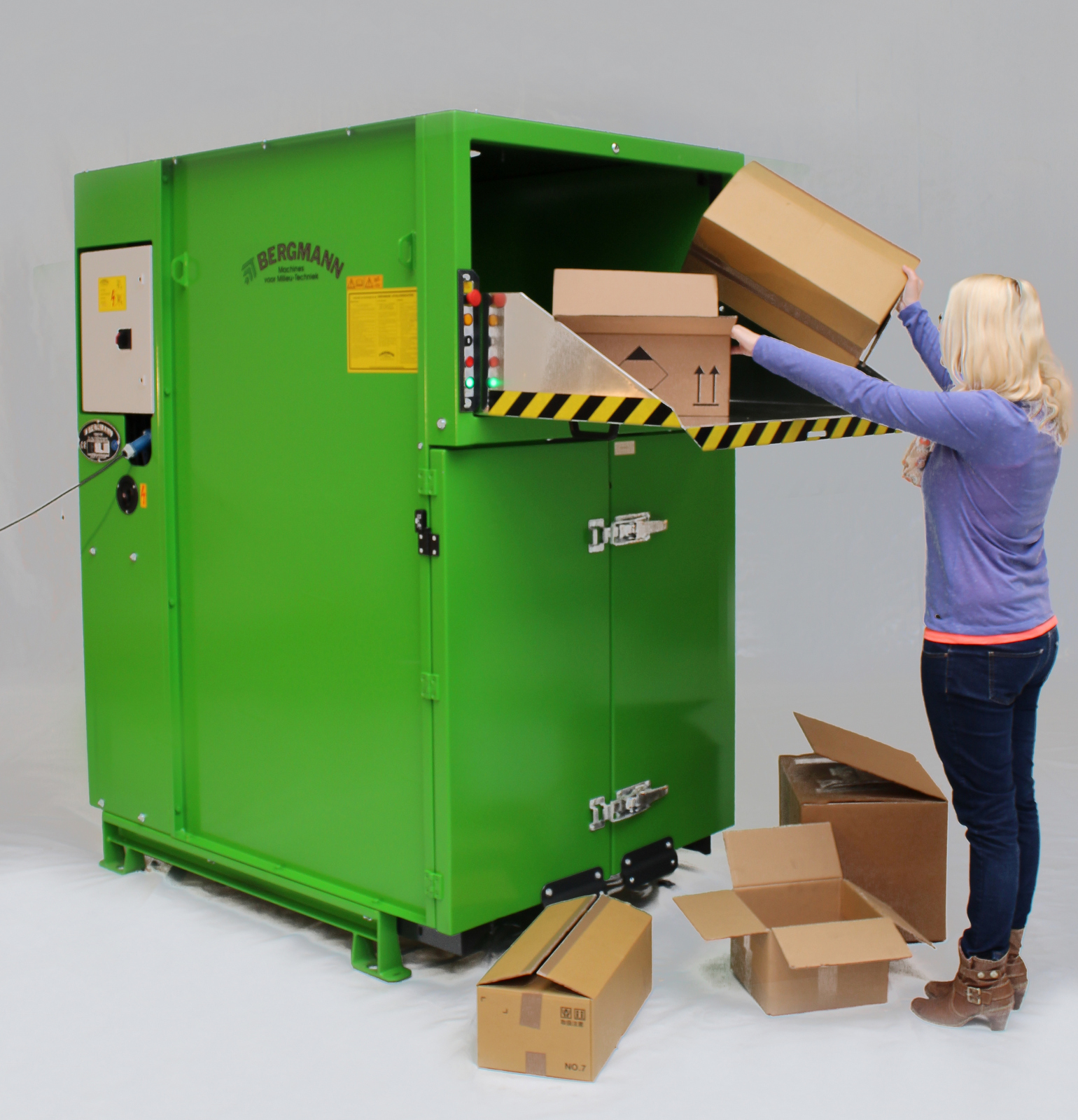 Hydraulically driven PS 8100 compacts into 1000 litre bags
The PS 8100 is particularly suited for packing foils, styropor (EPS), fruit boxes, cans, paper and cardboard as well as general refuse.
The results are spectacular!

Standard equipment
Special compaction drum for paper and cardboard boxes
Faceplate
Electrical protection class
Branded hydraulic pump
Autotimer
Working hour counter
Oil level monitoring
Overload protection
Pre-installed for the mounting of a pointed roof
Accessories
Filler chute, reduction of filling height to 1,480 mm
Folding door with automatic door opening
Special compaction drum with blade set for various films
Cone roller with 24 cones for strong pasteboards
Pointed roof constructed from glass fiber reinforced plastic
Full message via horn or flashing light
sprinkler system
Ozone generator against unpleasant odours
The Bergmann roto compactor in action:
For information on the Bergmann PS 8100 or any other Bergmann products, please contact us.
Technical Information
Round format – hydraulically driven
Compacts into 1000 litre bags
Small space requirement of only 1.49 x 1.70 m
Huge loading aperture (approx. 990 x 670 mm)
Electrical protection class IP 44
Can be filled by chute or conveyor
Machine CE-certified
Technical Summary
| | |
| --- | --- |
| Model | PS 8100 |
| Power supply | 16A three phase +N 400 V |
| Dimensions WxDxH (mm) | 1210 x 1605 x 2200 |
| Required Height Clearance (mm) | 2800 |
| Weight (kg) | 930 |
| Compaction Ratio | up to 9:1 |
| Results of compaction achieved | |
| Cardboard (kg) | 250 |
| Plastic Foils (kg) | 140 |
| Styropor (kg) | 60 |
| General Refuse (kg) | 300-700 |
| Bale Volume (m3) | 1 |