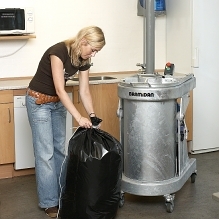 The Bag Press BP2 compacts waste inside a steel chamber enclosed by a plastic bag.  The press is especially useful for cardboard, plastic and cans, and for wet waste.
The wheeled press is easy to move and can be locked in position with a brake. It's easy to operate and the plastic bag can be changed quickly.  Its compact design means that it can be located in areas with a low ceiling height.  A compaction ratio of approximately 6:1 can be achieved.
A Marine BP2 Bag Press is also available to meet waste handling requirements on ships, rigs and shipyards.
If you want to know more about the Bramidan Bag Press BP2 or any of our Compactor range please contact us.
Low maintenance
Low overall height, only 185cm
Filling opening diameter of 450mm
Easy to operate
Compact designs saves space
Galvanized – resistent in aggressive environments
Fast cycle time
Model
BP2
Press force (t)
1.5
Power supply
1 x 230V 50Hz 10A
Motor (kW)
0.75
Cycle time (sec)
25
Dimensions WxDxH (mm)
1000 x 600 x 1800
Weight (kg)
220
Filling opening WxH (mm)

Filling opening diameter

Ø430
Filling height (mm)
1000
Chamber height (mm)
660
Stroke (mm)
600