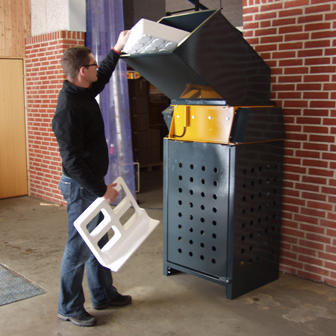 This machine granulates expanded polystyrene (EPS) material
It is suitable for any business wishing to dispose of bulky polystyrene waste. The EPS granulator converts pieces of polystyrene into small granules and bags them, allowing for easy disposal.
This machine is suitable for EPS fragments between 0-35 kg/cbm. EPS that can be crushed by hand is suitable for this granulator – the EPS material must not be extruded.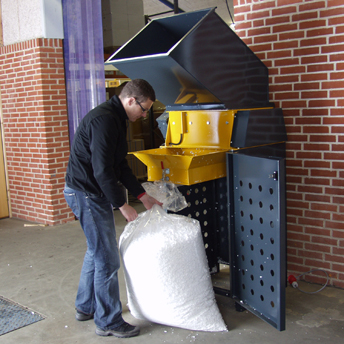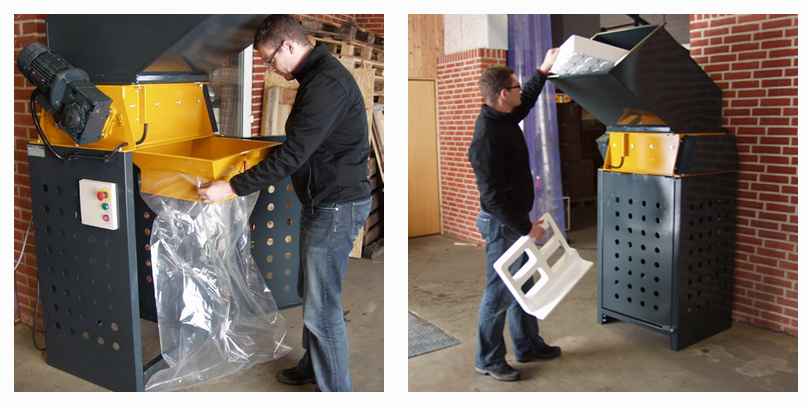 This machine is ideally suitable for waste EPS generated in retail food & non food environments, together with garden centres. The EPS Granulator output table shows the cubic metres per hour that can be processed according to the screen size used.
If you want to know more about the EPS Granulator or what any of our Bramidan Products can do for your business please contact us
Low overall height – takes up little space
Produces 10-50mm granules depending on screen size
Machine is switched off by automatic timer
Easy access to change the waste sack
| | |
| --- | --- |
| Model | EPS Granulator |
| Power supply | 3x400V 50Hz 16A |
| Motor (kW) | 1.5 |
| Noise level (dB) | 70 |
| Dimensions WxDxH (mm) | 1005 x 1220 x 2120 |
| Weight (kg) | 235 |
| Filling opening WxH (mm) | 548 x 552 |
| Waste Density (kg/m3) | <30 |
| Compaction Ratio: | |
| Screen 10mm (m3/h) | 3/1 |
| Screen 20mm (m3/h) | 8/3 |
| Screen 30mm (m3/h) | 13/5 |
| Screen 40mm (m3/h) | 18/7 |
| Screen 50mm (m3/h) | 23/9 |